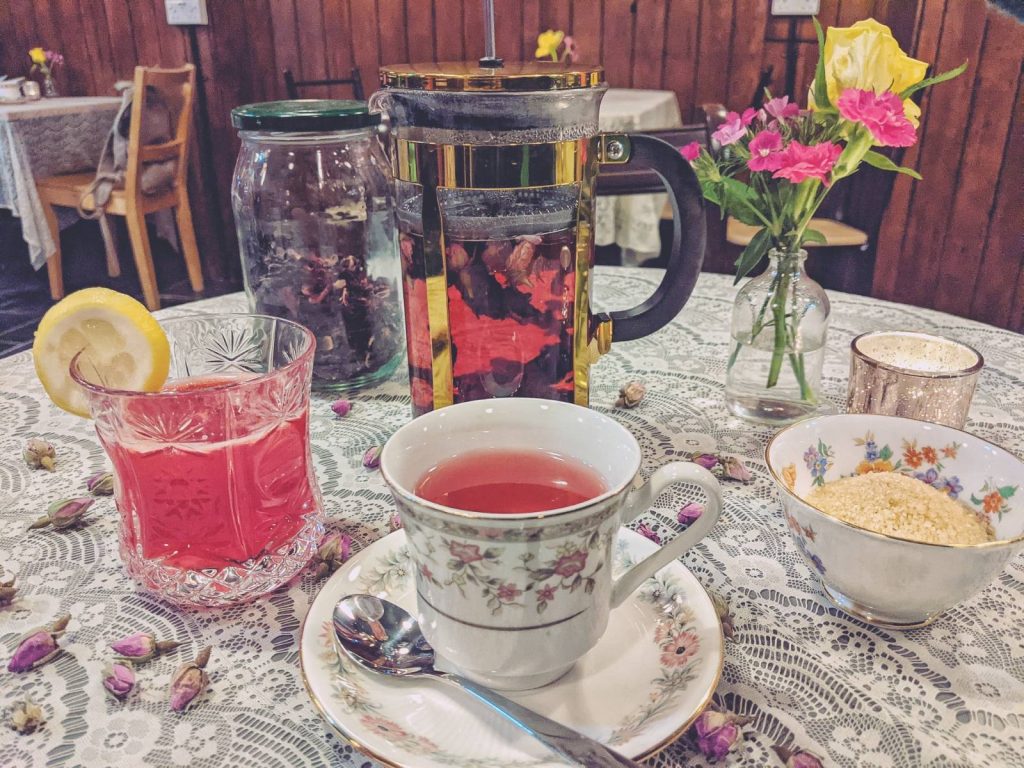 [reading time: 8 minutes]
די ראָזעווע פּאַווע (pink peacock) is a queer, yiddish, anarchist vegan community café in the southside of glasgow.
we use a pay-what-you-can price structure down to £0 and we stock an outdoor fridge full of free food.
the café is a community space, a social and arts space, and somewhere to get delicious vegan jewish food. our hours are afternoon and late-nite, and it is a dry all-ages space which doesn't serve alcohol.
די ראָזעווע פאַווע ("di rozeve pave") means "pink peacock" in yiddish. די גאָלדענע פּאַווע ("di goldene pave" or the golden peacock) is a symbol of yiddish literature; we're invoking the richness of yiddish culture and making an explicitly queer space. the café is bilingual with everything in yiddish and english, prioritizing yiddish. it's pronounced like "de ROSE-eh-vuh PAH-vuh".
our values
politically uncompromising anarchism:
do no harm, take no bullshit
the politics we advocate include: antifascism; anticapitalism; transfeminism and full bodily autonomy; queer liberation; deassimilation, decolonialism, and anti-racism; the social model of disability; no borders, no nations, yes migrants' rights; sex workers' rights and full decrim [youtube link]; the abolition of prison, police, detention, and mass surveillance; no rent, no landlords, no bailiffs; pro-BDS [text information on BDS]; full decriminalization of drugs; systemically addressing the climate crisis now; and no monarchy!
we are not interested in purity or disposability politics; our approach is one of solidarity and harm reduction. we're happy to engage in good-faith political discussions.
our jewishness is founded on values of justice. we are proudly anti-zionist and stand with palestinians in the fight for self-determination against occupation. we are following a long, jewish anarchist tradition of opposing zionist ideology. we're glad to have a jewish identity which is not about israel.
late-nite dry queer café
we are a space that is centered around queer people: all lesbian, gay, bisexual+, trans and non-binary, queer, questioning, intersex, asexual, and aromantic people, and anyone who's not cisgender-and-heterosexual. this is a space for queers, by queers.
everyone is welcome (including cishet/non-queer and goyishe/non-jewish allies) and we are family friendly.
the café is dry, ideal for anyone who's looking for a cosy late-nite space which isn't centered around alcohol. glasgow especially needs dry queer social spaces.
we are open in the afternoon and late through the evening, with dim lighting, café curtains, calm music, and bottomless filter coffee.
bilingual: yiddish & english
we are a space for yiddish learning, production, and preservation as much as a queer space.
all the menu items, signage, and communications are written in yiddish and english. we host yiddish speakers, yiddish reading groups, and events in yiddish. yiddish is a living language!
the yiddish we use is a combination of khasidic yiddish and YIVO yiddish: we're not native speakers and still have a lot to learn about the different dialects. talk to us about it!
vegan jewish bakery
we serve handmade baygls with a variety of shmirs: tofu cream cheese, khumus, peanut butter, vegan butter, and jam. toppings include avocados, capers, onions, tomatoes, and vegan "lox".
we also make potato knishes, soups, khale (challah), and other delicious jewish vegan food. we have some staples, and the menu changes to serve what's in season.
we want to disrupt the assumption that jewish = white and ashkenazi. part of this includes serving sephardi, mizrahi, and palestinian food, and promoting and hosting culturally varied jewish events. we also want to disentangle jewishness from zionism and the state of israel: we are proudly anti-zionist jews.
the food is entirely vegan so it is parve, and made by jews in a kashered space. we do not have kosher or halal certification at this time.
accessibility, community support, & ethics
this is a space for the community rather than for profit. we want to be transparent with everything we do. our budget and accounting spreadsheets are public and viewable here. we've actively planned to make the café and our events as accessible as possible. see our accessibility page for more details.
we are committed to using as few disposable materials as possible, without compromising on accessibility.
where possible, we procure from local queer and/or jewish suppliers.
---
thank yous
thank you to everyone who has supported us and helped us open: every single £1 donated is put directly into the café. special thanks to:
category is books, IRN-JU, and jewdas for emotionally and financially supporting us
ezra rose for designing our gorgeous logo
al and freygl gertsovski for IT support
annie, ethel, and daniel for translation support
and cosmic appreciation for our wonderful queer, jewish, and yiddish communities in glasgow and across the world: we couldn't do this, or anything, without yous.
about the website
photos are taken by the collective unless noted otherwise.
all translation errors are our own.