page navigation
jobs
host an event
donate food to the 24/7 free fridge
donate skills and stuff
donate money
jobs
we're not currently hiring. when we are, we'll post about it here, at the café, and on our social media.
host an event
if you have a queer, yiddish, jewish, anarchist, and/or community event you want to host via us, please get in touch!
if you'd like to use the café space, send us an email (hi@pinkpeacock.gay) about what you'd like to do, when, and your budget (if you have one).
at the moment, we're requiring the following for all our in-person events:
maximum 12 people (not including babies)
guidelines which we strongly suggest, but which are at your discretion:
either:

everyone wears a masks, or
everyone takes a lateral flow test on the day of the event

everyone keeps 2 meters distance
the doors remain open for ventilation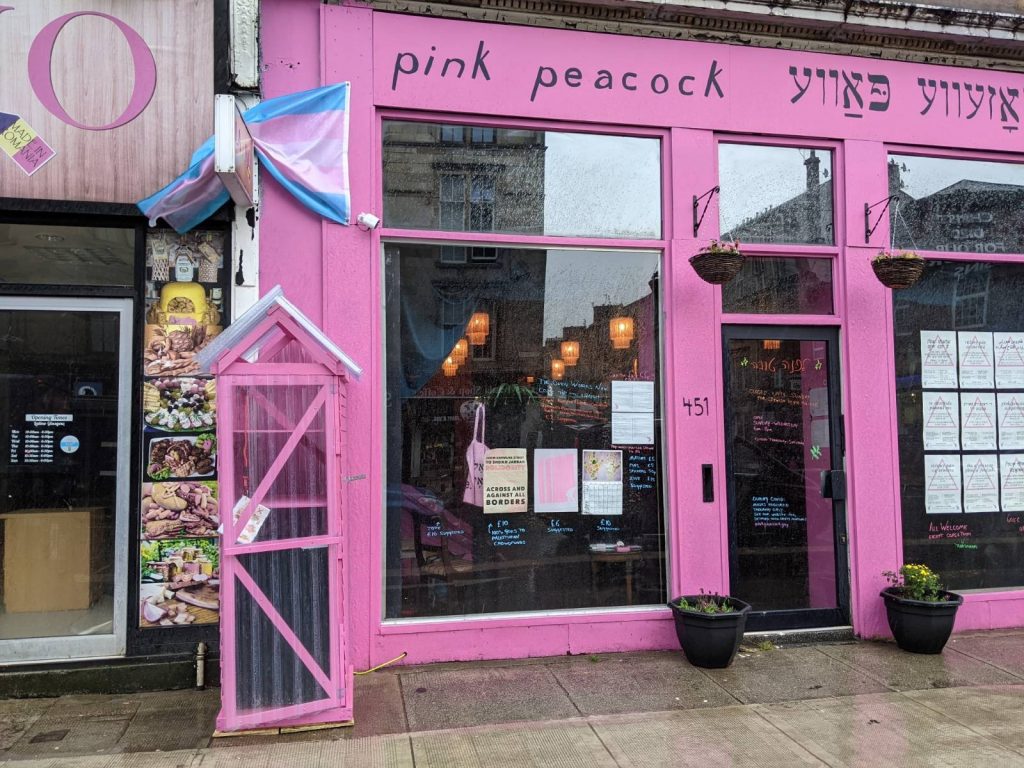 donate food to the 24/7 free fridge
what can i donate?

food:
unopened store-bought food
all food must have clear labels with ingredients and the expiration date
no leftovers or home-cooked food
no meat (for food safety)
nothing rotten or over-expired
other stuff:
water bottles
nappies
menstrual products
masks
please:
do not leave items on the ground. if the fridge is full, try coming back the next day
do not donate alcohol or drugs
see instructions for fridge donations here in english, ייִדיש (yiddish), عَرَبِيّ (arabic), বাংলা (bangla), čeština (czech), español (spanish), فارسی (farsi), gàidhlig (gaelic), हिन्दी (hindi), limba română (romanian), polskie (polish), scots, and in images.
donate skills and stuff
we had dreams of building the café space as a community, but because of the pandemic, we're not having volunteers in unless they have particular skills that we need right now.
here's a spreadsheet of the skills and things we need right now. if you can donate any of these things, please email us: hi@pinkpeacock.gay
donate money
there a few ways you can support us with money:
patreon (monthly donations)
paypal (one-off, or reoccurring)
buy things from our online shop